UNKNOWN ATTEMPTED BANK ROBBER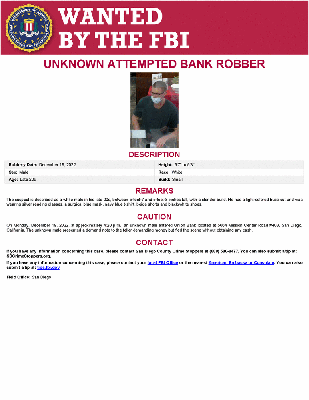 Download Poster
Description
Robbery Date:

December 19, 2022

Height:

5'7" to 5'8"

Sex:

Male

Race:

White

Age:

Late 20s

Build:

Small
Remarks
The suspect is described as a white male in his late 20s, between 5-feet-7 and 5-feet-8 inches tall, with a slender build. He has a light-colored buzz cut and was wearing silver reading glasses, a surgical blue mask, navy blue t-shirt, beige shorts and black/white shoes.
Caution
On Monday, December 19, 2022, at approximately 4:20 p.m., an unknown male entered Union Bank located at 5664 Mission Center Road #403, San Diego, California. The unknown male presented a demand note to the teller demanding money but fled the scene without obtaining any cash.
Contact Information
If you have any information concerning this case, please contact San Diego County Crime Stoppers at (888) 580-8477. You can also submit a tip at:
SDCrimeStoppers.org.
If you have any information concerning this case, please contact your local FBI Office or the nearest American Embassy or Consulate. You can also submit a tip at: tips.fbi.gov
Field Office:  San Diego