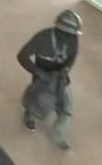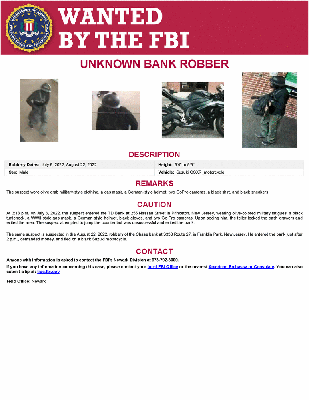 Download Poster
Description
Robbery Dates:

July 6, 2022

;

August 22, 2022

Height:

5'4" to 5'6"

Sex:

Male

Vehicle:

Suzuki GSXR_motorcycle
Remarks
The suspect wore olive drab military-style clothing, a gas mask, a German-style helmet, two GoPro cameras, a black shirt, and black sneakers.
Caution
At 3:18 p.m. on July 6, 2022, the suspect entered the TD Bank at 255 Nassau Street in Princeton, New Jersey, wearing olive-colored military fatigues, a black turtleneck, a WWII-style gas mask, a German-style helmet, black gloves, and two Go-Pro cameras. Upon seeing him, the teller locked the cash drawers and exited the area. The suspect attempted to jump the counter but was unsuccessful and exited the bank.

The same suspect is suspected in the August 22, 2022, robbery of the Chase bank at 3333 Route 27, in Franklin Park, New Jersey. He entered the bank just after 2 p.m., demanded money, and fled on a black Suzuki motorcycle.
Field Office:  Albany