Unknown Bank Robber
Red Hat Guy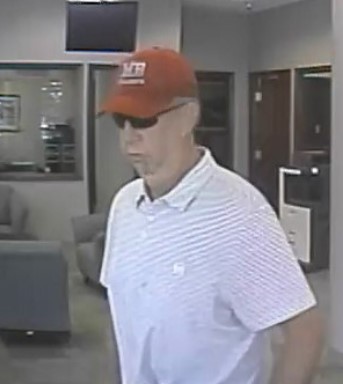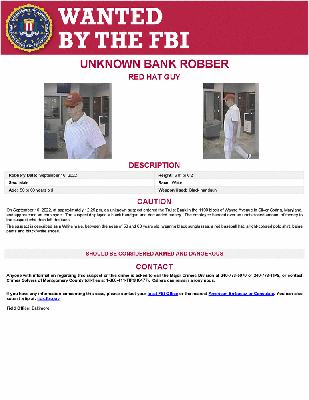 Download Poster
Description
Robbery Date:

September 16, 2022

Height:

6'0" to 6'2"

Sex:

Male

Race:

White

Age:

50 to 60 years old

Weapon Used:

Black handgun
Caution
On September 16, 2022, at approximately 12:25 pm, an unknown suspect entered the Truist Bank in the 1100 block of Wayne Avenue in Silver Spring, Maryland, and approached an employee.  The suspect displayed a black handgun and demanded money.  The employee handed over an undisclosed amount of money to the suspect who then left the bank.  
The suspect is described as a White male, between the ages of 50 and 60 years old, wearing black sunglasses, a red baseball hat, a light-colored polo shirt, beige pants and black/white shoes. 
SHOULD BE CONSIDERED ARMED AND DANGEROUS
Contact Information
Anyone with information regarding this suspect or this crime is asked to call the Major Crimes Division at 240-773-5070 or 240-773-TIPS, or contact Crimes Solvers of Montgomery County toll-free at 1-866-411-TIPS (8477).  Callers can remain anonymous. 
If you have any information concerning this case, please contact your local FBI Office or the nearest American Embassy or Consulate. You can also submit a tip at: tips.fbi.gov
Field Office:  Albany