UNKNOWN BANK ROBBER
Bling Ring Bandit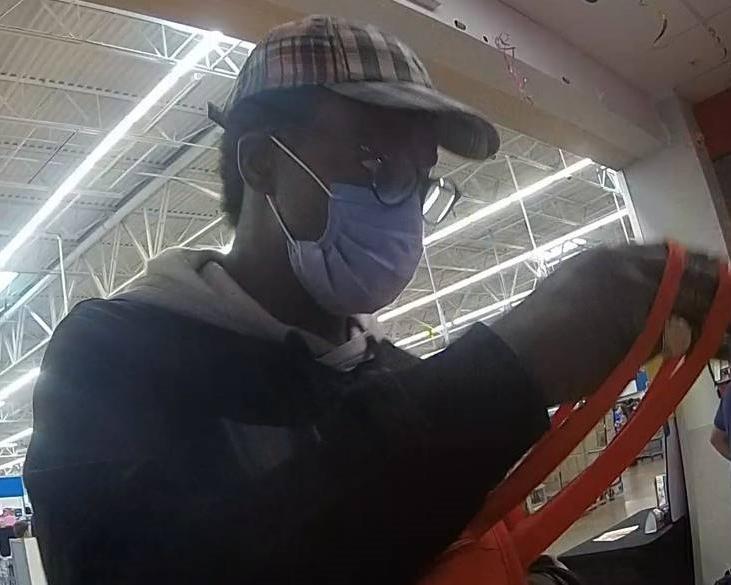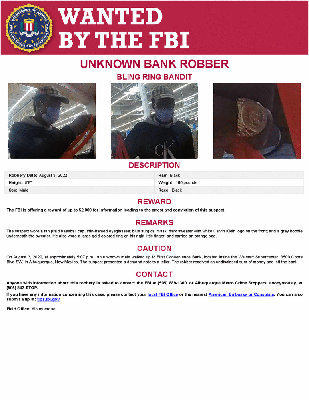 Download Poster
Description
Robbery Date:

August 3, 2022

Hair:

Black

Height:

5'9"

Weight:

160 pounds

Sex:

Male

Race:

Black
Reward
The FBI is offering a reward of up to $2,000 for information leading to the arrest and conviction of this suspect.
Remarks
The suspect wore a tan plaid baseball cap; thin-framed eyeglasses; blue surgical mask; dark sweater with white Calvin Klein logo on the front; and a gray hoodie underneath the sweater. He also wore a large gold-colored ring on his right little finger, and carried an orange bag.
Caution
On August 3, 2022, at approximately 5:07 p.m., an unknown male walked up to First Convenience Bank, located inside the Walmart Supercenter, 3500 Coors Blvd SW, in Albuquerque, New Mexico. The suspect presented a demand note to a teller. The robber received an undisclosed sum of money and left the bank.
Contact Information
Anyone with information about this robbery is asked to contact the FBI at (505) 889-1300, or Albuquerque Metro Crime Stoppers, anonymously, at (505) 843-STOP.
If you have any information concerning this case, please contact your local FBI Office or the nearest American Embassy or Consulate. You can also submit a tip at: tips.fbi.gov
Field Office:  Albuquerque