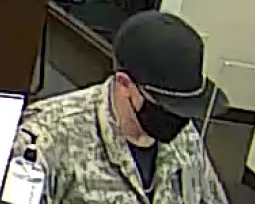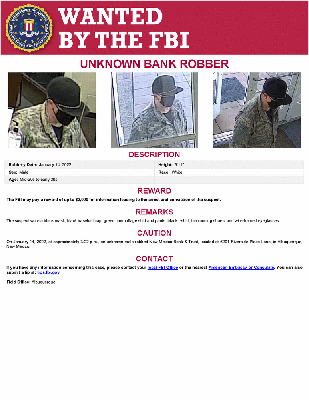 Download Poster
Description
Robbery Date:

January 14, 2022

Height:

5'11"

Sex:

Male

Race:

White

Age:

Mid-20s to early 30s
Reward
The FBI may pay a reward of up to $2,000 for information leading to the arrest and conviction of the suspect.
Remarks
The suspect wore a black mask, black baseball cap, green camouflage shirt and pants, black t-shirt, tan running shoes, and wire-framed eyeglasses.
Caution
On January 14, 2022, at approximately 3:22 p.m., an unknown male robbed New Mexico Bank & Trust, located at 6201 Riverside Plaza Lane, in Albuquerque, New Mexico.
Field Office:  Albuquerque