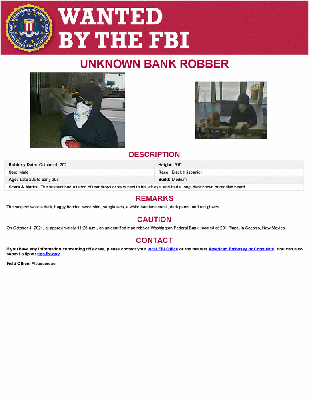 Download Poster
Description
Robbery Date:

October 4, 2021

Height:

5'6"

Sex:

Male

Race:

Black (Hispanic)

Age:

Late 20s to early 30s

Build:

Medium

Scars & Marks:

The suspect had a tattoo of tear drops or stars next to his left eye, and had a long, dark brown or reddish beard.
Remarks
The suspect wore a dark, baggy hooded sweatshirt, sunglasses, a white bandana mask, dark pants, and red gloves.
Caution
On October 4, 2021, at approximately 11:25 a.m., an unidentified man robbed Washington Federal Bank, located at 201 Plaza, in Socorro, New Mexico.
Field Office:  Albuquerque