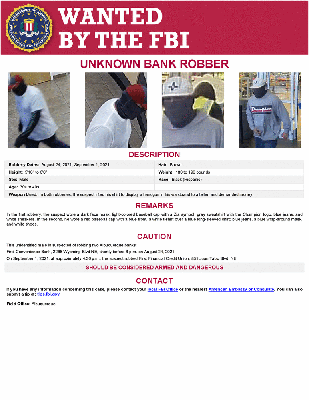 Download Poster
Description
Robbery Dates:

August 24, 2021

;

September 1, 2021

Hair:

Brown

Height:

5'10" to 6'0"

Weight:

180 to 190 pounds

Sex:

Male

Race:

Black (Hispanic)

Age:

30s to 40s

Weapon Used:

In both robberies, the suspect lifted his shirt to display a handgun in his waistband to a teller, and demanded money.
Remarks
In the first robbery, the suspect wore a dark face mask, light-colored baseball cap with a Zia symbol, gray sweatshirt with the Champion logo, blue jeans, and white sneakers. In the second, he wore a red baseball cap with a blue front, a white t-shirt over a blue long-sleeved shirt; blue jeans, a blue wrap-around mask, and white shoes.
Caution
This unidentified male is suspected of robbing two Albuquerque banks:
First Convenience Bank, 2266 Wyoming Blvd NE, shortly before 6 p.m. on August 24, 2021.
On September 1, 2021, at approximately 4:36 p.m., the suspect robbed First Financial Credit Union, 831 Juan Tabo Blvd. NE.
SHOULD BE CONSIDERED ARMED AND DANGEROUS
Field Office:  Albuquerque