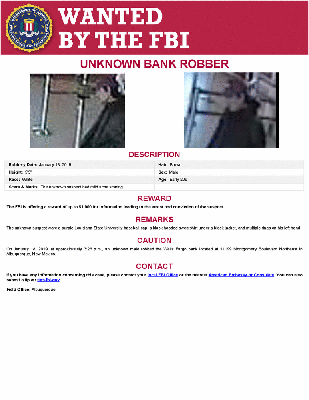 Download Poster
Description
Robbery Date:

January 18, 2019

Hair:

Brown

Height:

5'5"

Sex:

Male

Race:

White

Age:

Early 20s

Scars & Marks:

The unknown suspect had mild acne scaring.
Reward
The FBI is offering a reward of up to $1,000 for information leading to the arrest and conviction of the suspect.
Remarks
The unknown suspect wore a purple Louisiana State University baseball cap, a black hooded sweatshirt under a black jacket, and multiple rings on his left hand.
Caution
On January 18, 2019, at approximately 3:26 p.m., an unknown male robbed the Wells Fargo bank located at 11199 Montgomery Boulevard Northeast in Albuquerque, New Mexico.
Field Office:  Albuquerque