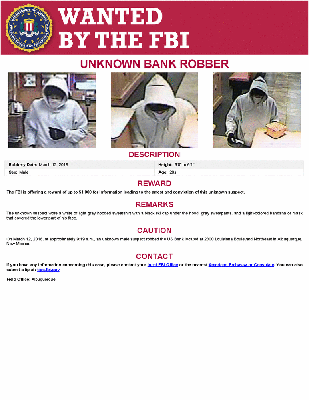 Download Poster
Description
Robbery Date:

March 12, 2018

Height:

6'0" to 6'1"

Sex:

Male

Age:

20s
Reward
The FBI is offering a reward of up to $1,000 for information leading to the arrest and conviction of this unknown suspect.
Remarks
The unknown suspect wore a white or light gray hooded sweatshirt with a black ski cap under the hood, gray sweatpants, and a light-colored bandana or mask that covered the lower part of his face.
Caution
On March 12, 2018, at approximately 9:19 a.m., an unknown male suspect robbed the US Bank located at 2300 Louisiana Boulevard Northeast in Albuquerque, New Mexico.
Field Office:  Albuquerque